It's hard to think of your parents reaching an age in which they won't as easily take care of themselves.  We'd love for our parents and/or grandparent to be just as agile as you remember them to be when we were kids but the reality is that at somepoint in their lives –in your life — the time for you to "step-up to the plate" so to speak, will come.  When that cycle of life arrives, you have to be ready and know what you need to do in providing appropriate care for your loved ones.  In comes Comfort Plus…a fantastic resource for hispanic caregivers.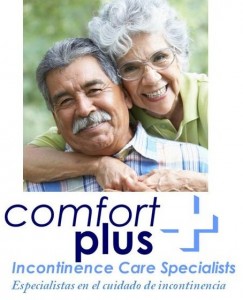 About Comfort Plus: The Resource For Hispanic Caregivers
What is ComfortPlus Online?
Comfort Plus, Inc. launched  www.comfortplusonline.com in March of 2012 with the intentions of making their products and services more accessible to at-home caregivers. They realized that creating an e-commerce website wasn't enough to suit the needs of their customers.  They needed to do more.  For that reason, they created several online platforms to help inform customers on caregiver topics as well as keep their customers engaged with them to make sure that they were providing the best possible service. 
The highlight of their website is the "Comfort Plus Para Ti" section.  Instead of adding an option to use an online website translator on their site, they decided to make a section of the website specifically for Spanish speakers.  Within the "Comfort Plus Para Ti" section customers are able to find:
Encuentra Tu Producto – This is an interactive matrix that helps the customer find the correct product by assessing their unique incontinence need and providing a solution for that need.
Atención al Cliente y Muestras – Customers are able to interact with a Spanish- speaking representative that will be able to assist them in choosing samples to find out what products would be best for them.
Gangas, Descuentos, y Más – Customers will be informed about all discounts and deals that Comfort Plus is promoting at the moment.
Centro de Recursos Para El Cuidador – Caregivers will have access to relevant, informative material that will be used to help caregivers with the multitude of issues that they face.
Blog- Their Blog publishes select pieces from their Centro de Recursos Para El Cuidador and allows  followers to give feedback.
Facebook- They have two Facebook pages, one in English – "Comfort Plus Medical Supplies" and one in Spanish – "Comfort Plus Para Ti".  They use these pages to keep their followers up to date on caregiver resources and product deals and discounts.  These pages also serve as a resource for caregivers to share their own caregiver issues and
advice.
Tranquility Products
Comfort Plus, Inc. takes pride in providing the best products and services to its customers.  The best incontinence product line on the market is Tranquility®, made by. They provide Tranquility products to their customers for several reasons.  First of all, these products have maximum absorbency and custom designs, providing lasting comfort to the user.  Secondly, the maximum absorbency allows the user to wear the garment longer, lasting more time in between changes.  This allows for less hassle as well as uninterrupted sleep.  Tranquility products are known to cut traditional incontinence garment usage in half.  Thirdly, Tranquility products help you save money in the long run.  Although Tranquility products are priced higher than their competitors, they are more efficient.  After 30 days using Tranquility products, the user ends up spending around half of what it normally would with another leading brand.  Fourth, with the efficiency of their products, users cut their garbage waste as well as the chemicals and water necessary for clean up with other products.  Ultimately, the efficiency of Tranquility products allows users and caregivers more piece of mind due to less stress in their daily lives.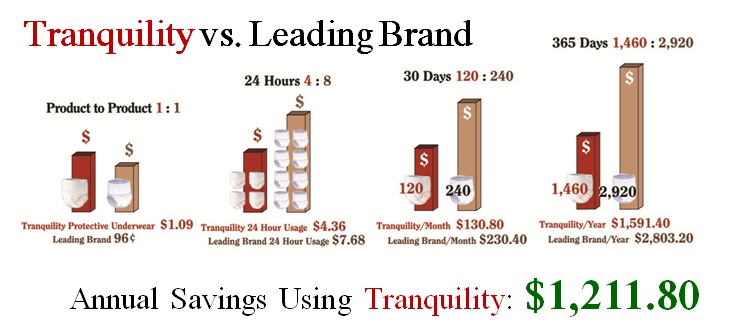 Why is Comfort Plus, Inc. reaching out to the Hispanic market?  For one, they are a family-oriented, value-driven company that believes that everyone needs the best service when dealing with the care of their loved ones.  Furthermore, Hispanics have higher rates for the causes of incontinence (diabetes, overweight, Alzheimer's, etc.) Also, Hispanic women reported more urinary incontinence than did non-Hispanic white women.  These higher prevalences were largely associated with diabetes and other physiological issues (Firouz Daneshgari, 2007).  21% of Hispanic caregivers cite that they help their care recipients with dealing with incontinence.
 Simple Facts: Did You Know That…
Hispanics make up over 16% of the total population of the country. 
Hispanic adults have a lower prevalence of many chronic health conditions than the U.S. adult population as a whole.  However, they have a higher prevalence of diabetes than do non-Hispanic white adults, and they are also more likely to be overweight.
Hispanics often face language and cultural barriers as they navigate the health and social service systems.
There is a lack of culturally proficient elderly care services geared toward Hispanics.
Hispanic caregivers most frequently cite two problems as the main reason the person they assist needs care:  1) old age or aging and 2) Alzheimer's disease, confusion, dementia, or forgetfulness.  Other Illnesses are: mental/emotional illness, diabetes, and stroke.  These are all long term medical conditions.

On A Personal Note
I recently had to help out an elderly family member and I have to say it has been a bit difficult.  Comfort Plus Online was a great resource for me.
A Question To My Readers
Is it easier to purchase incontinence products at the store or from the comfort/privacy of your home?
Does the product quality impact your purchasing decision?
Stay Connected 
Learn more about Comfort Plus by "liking" them on Facebook and following them on twitter @ComfortPlusZac
Comfort Plus is offering a discount code: Use LMB2012 at checkout for $10 off any case of Tranquility products
This is part of a compensated campaign with Latina Mom Bloggers and ComfortPlus Online.  However, all opinions expressed are my own.
Tweet