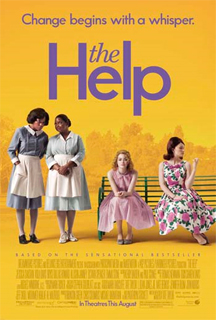 DreamWorks Pictures Movie Screening of  The Help Movie #thehelp
As a busy mom, I don't get out that often to movies alone.  I don't really have the time (or energy) to sit with a bag of popcorn and soda pop to enjoy a great movie.  Thanks to DreamWorks Pictures, I was able to do JUST that this past weekend @blogher11 .  The Help went beyond my expectations! It was full of every emotion:  funny, sad, dramatic and entertaining.  There were moments when I was really laughing and there were times when I was close to sobbing – think a Hallmark commercial times 10!   It was by far, the best heartwarming movie I have seen in a long time.
On a personal note:  I have never worked as "the help" but I can relate to this movie in a roundabout sort-of way.  Living in Los Angeles for 14 years on the "Westside" – a somewhat affluent community encompassing Beverly Hills, Santa Monica, West L.A. to name a few,  I can say that I  had my little encounters with some sort of discrimination.  Although not a joking matter and not nearly as close to the storyline of The Help,  I joke around with some friends because it is funny to me that this type of discrim-otype (discrimination & stereotype) still exists.  Simply because I had a stroller and walked my daughter around the neighborhood during the working hours of 9-5, did not mean I was the nanny.  And simply because I cleaned the outside of the windows of my house, did not mean I was the help.  There is nothing wrong with keeping a clean house and being very caring to the little ones that stay home with the caretakers.  If only more people were like The Help, the world would be a better place.
Don't miss this amazing movie.  It is 100% worth the ticket price.

The Help opens Wednesday August 10
These are the thoughts of Laura Medina-Filipowicz, CEO and Founder of BagLady Promotions
Tweet