I've always wanted to check out Fashion's Night Out (FNO) and never had the time.  But this year, my friend Andréa and I had the privilege of attending Fashion's Night Out 90210 style!  Her Review was invited to the VIP Mommy Blogger Party and this event did not disappoint.  We went directly to the Penthouse at Luxe where a nice VIB Gift Bag awaited us with a glass of wine and a few h'orderves.  We were excited to see what each house of fashion had in store for us.
The feeling in the air was mischievous!  Ladies were dressed elegant, men were looking sharp ready to shop.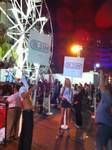 Our first stop was at Gucci, we completely fell over the Fiat 500 by Gucci-  "Mini Cooper Killer".  The Limited Edition Mini Cooper has it all, comfortable leather seats, a bright dash board , and the world of Gucci surrounding you, impossible not to feel Italian.
So many wonderful events were going on at the same time we didn't know where to turn to first.  Cirque of Soleil had a stilt walker that was just magical walking down the Rodeo.
The Iconic Ferris will was shining in the warm nigh, a live band was playing in front of the Versace store and girls were getting their hair done by Vito Esposito Salon in the middle of the street.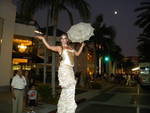 We visited some of our favorite stores Louis Vuiton, Versace, Gucci and Dior, the best part was trying on clothes, shoes that made us feel incredibly rich. How each Fashion house put together their outfits was pure inspiration of color, genre, and silhouette for me to use what I have in my closet.  By the end of the night we were starving and took advantage of the great gourmet food trucks outside.
Overall it was a great night that that the Rodeo Drive Committee put together,   but it's important to remember that Fashion's Night Out is an opportunity to remind  all of us  of us the  importance of fashion, retail and especially shopping in our  local economy.
Article contributed by Damaris Radut. A contributor for Her Review
Tweet