Recently, I visited the Glimmer Body Art (GBA) Studio in the South Bay.  I met up with Lindsay for a cup of joe and to talk about their exciting product.  I was able to look at every color of glitter they had in stock, and like every girl, all I wanted to do was play with the products.  It is all glitter and unicorns over there!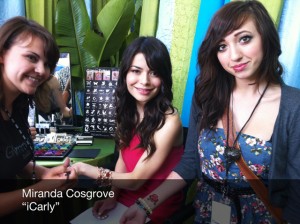 Glimmer Body Art was originally formed in 2007 as a service company providing fun and entertainment with glitter tattoos for parties and events in Los Angeles. The service was an instant hit and the company became a fixture of Los Angeles events like the Teen Choice Awards, FOX's The Simpson's Anniversary Party and LA's Fashion Night Out at Saks Fifth Avenue.  Due to the huge popularity of the glitter tattoos, Glimmer Body Art quickly evolved to be the premier glitter tattoo product manufacturer, serving the domestic and international market. 
Glitter Tattoos are the hottest body art form in the world today.  It is a fun way to entertain guests in parties and events. Even Hollywood celebrities are loving the sparkle on the red carpet and the local mompreneurs are sure to love it too!  I do!
GBA offers several different ways to utilize their product.  You can book them for your event, purchase their do-it-yourself Party In a Box, or you can catch them down at the Santa Monica pier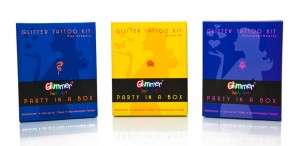 !  GBA's unique Party In A Box  kit allows you to do it yourself.  The process is pretty simple and is very easy to do – even for the not so crafty.  I had a blast with the samples they provided me with and have to say I enjoyed it just as much as my 6 year old!  They have several selections to choose from and are well worth the purchase.  Here is a clip showing how easy it is to apply one from their Party In A Box line.
If DIY projects are not your cup of tea, then I suggest you book them for your next corporate event or kids birthday party!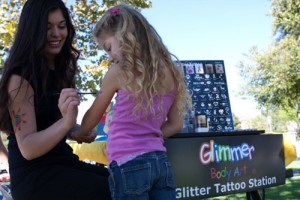 Glitter Tattoo Parties definitely add sparkles to a kids smile. I was able to experience one of their birthday parties first hand and let me tell you, it was the highlight of the party!  The kids and parents alike, were hovering around the glitter table for the entire time.  Needless to say, kids and parents both walked away with tattoos at the end of the day.
Here is what the mother of the party had to say about their expereience with GBA, "The glitter tattoos were a HUGE hit at my daughter's birthday party.  All of the girls wanted more than one and even the parents wanted to get in on the action.  The girl doing the tattooing was a delight and very knowledgeable about the product.  I would use them at any event whether it be a kids party, an adult event or anything in between."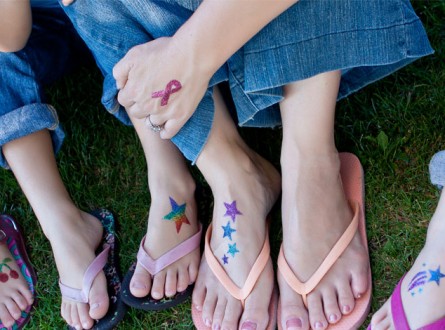 This product is kid recommended and mother approved!


Follow Glimmer Body Art on Facebook and Twitter for updates on their latest products and news.
Tweet