Healthy Holiday Tips
Are you looking for an easy and delicious pre or post holiday meal?
This Simple Delish recipe will warm you up this holiday season.
Simple Delish Recipe: Butternut Squash Soup
Grocery List:
1 butternut squash, peeled and diced (you can buy the pre-cut bags if you are in a rush)
1 medium sweet potato, peeled and diced
1 large onion
5 cloves garlic
1 can white beans, rinsed
1 quart chicken or veggie stock
2 bay leaves
1 – 2 teaspoons chili powder (to taste)
1 – 2 teaspoons thyme (to taste)
1 – 2 teaspoons sage (to taste)
salt (to taste)
pepper (to taste)
Directions:
Sauté onion and garlic in olive oil with 1 teaspoon of each spice
When onions are translucent add bay leaves, squash, sweet potato, and broth until vegetables start to soften.
 Add salt and pepper and more spices if needed.
When everything is cooked through, use a masher to break the soup (may still be slightly chunky)
Serve immediately and enjoy!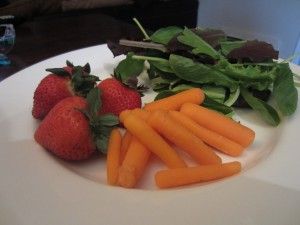 Katie is a contributing writer for HerReview.com an can be reached at Katie at Katie@balanced-beings.com 
For more healthy tips schedule your free health session with her or learn more about katie at www.balanced-beings.com
Katie Bressack of Balanced Beings is a Board Certified Holistic Health Coach (CHHC, AADP). Katie left the corporate world to follow her passion to support busy women with nutrition and lifestyle counseling.
Follow Her!
Facebook: facebook.com/balancedbeings
Twitter: @BalancedBeings7
Tweet