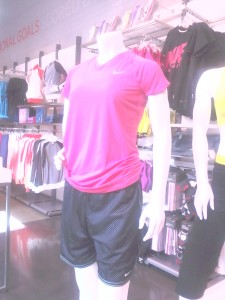 So Saturday I went shopping for running shoes.  Quite frankly, I don't even know what that entails!  I found myself overwhelmed with information and could't figure out what shoe to get.  Soft? Light? Support? All I knew is that I wanted black and hot pink.  Color should be the last thing I should look at right? Not. I want hot pink and black.  Needless to say I did not find them.  I wounder if Nike, Addidas, New Balance, or any other shoe company has a pair.
Hmm..
While shopping for shoes, I began realizing that there are also tons of different running outfits. The ones I liked were spandex and crop tops, but that all has to do with how much pounds I shed during my training.  For now, I am thinking of something a little bit more like a t-shirt and some cute shorts.
The shoe hunting still continues… and now I have to find a cute outfit too!
Do you have any suggestions on any specific ones? 
Tweet