Good morning, and what a good morning it was on this crisp Friday morning here on the westside.  You see, "I was given $50 by Stonyfield to give away as part of their #Sweetitude program for the Holidays."  I typically have a ton of things to write about and sometimes I have to turn them away – Just not enough time for me, but when I was offered the opportunity to spread some holiday cheer by the great folks at Stonyfield, and the great gals over at MomsLA I jumped at the chance to do it!
Huh?
What exactly does that mean?!
Well, this holiday season, Stonyfield is spreading a little natural sweetness to the world – organically…….. to celebrate their newest, 100 calorie, naturally sweetened cup!  Their exciting new campaign is called 'Sweetitude'.   To them, sweetitude means:  n. – A naturally sweet attitude. An attitude produced without the use of toxic pesticides, hormones, or chemicals. A pleasant disposition brought about by a non-artificial act of sweetness. (Often brought to you by a cup of Stonyfield).  It can also mean the little thoughtful actions that can make a difference – letting someone go before you in that crazy line at the department store, giving up a close parking spot to an elder, sharing baked goods with your coworkers, etc.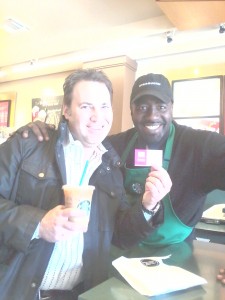 I JUST BOUGHT A TON OF COFFEE ~ My experience in a nutshell
Late yesterday, I recieved the $50 gift card in the mail, and although that money would not be spent on me, I could not wait to use it.  So many thoughts ran through my mind about how to best use it.  All of a sudden, I wished I had more than $50! I found myself wanting to buy so much for so many, but I had $50.  So clearly I could not buy peace for the world, but what I decided to do was support a local business.  
For those of you who don't know me, I am work with many businesses in Los Angeles by way of BagLady Promotions.  I usually go to meet with many of my clients in what I call my "Westside Office" – starbucks on pico. So since today is a half-day at my daughter's school and I am pressed for time with the holidays and all, I decided to keep it simple and just buy folks their morning cup-o-joe.  So I stood at the front of the line and just kept paying until the card ran out. 
Whoa!  What a rush!  It was pretty cool and it inspired me to work hard and make a ton of money so that I could just keep buying coffee for the world!  OK a little exageration there, but you get the feeling.  Everyone was genuinley excited and I was so jazzed!  I have to say, everyone was very plesant  however, we had one guy who was so confussed and kept trying to understand exactly what I was doing.  He seemed unable to comprehend how someone could just simply want to do something nice.  He didn't let me buy him a coffee.  I think he thought there was a catch and just simply said "give it to someone who really needs it."   Ok buddy, you clearly missed the boat on that one and as my 6 year old says, "it's a missed opportunity."  Well, it was a great experience and an absolutely great way to end a work week. 
But tell me, "What does sweetitude mean to you?"
Head to the Sweetitude website, www.sweetitude.com, view their call to action video, and submit what sweetitude  is to you in 100 characters or less. For every 1000 entries, they unleash 100 coupons and deliver 100 cups of yogurt to those who need it – nursing homes, homeless shelters, etc – they're open to all ideas and would love to hear from YOU about places and people that you think need some extra sweetness this season! Plus, one grand prize winner will receive a ski trip to Okemo – in the beautiful mountains of Vermont, and there are plentiful daily giveaways as well.
So, join us all in some holiday cheer and sweetness this season – and help us spread it far and wide! We'd love for you to share this with your Twitter followers using the hash tag #sweetitude as well.Big Hugs!
Laura~#Sweetitude
#MomsLAHoliday
Tweet