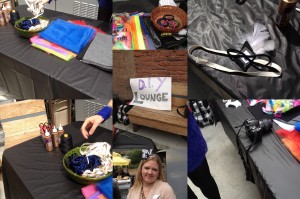 Rain or shine (actually a bit of both),  the L.A. Fashion Style-A-Thon was a fun event that was full of great fashion vendors.  With cute booths to keep the guests entertained, you could make your own D.I.Y. headband or stand in line and get your nails done at the complimentary nail bar.  This event that was sponsored by 365 Hangers, was full of great fashion, fun, and entertainment.
I started off the day browsing through the vendors that had set up shop at the event.  There were two great jewelry booths that carried unique designs and displayed a variety of their products.  Mr. Kate jewelry had many fun, chunky, eclectic pieces.  ShopBelina jewelry had a more classic style with some nautical pieces thrown in here and there. I walked by a booth that displayed fabulous looking shoes created by a company called One Sole.  I stopped by and learned about Nicolita, a bikini and swimsuit company that designs are made for the more curvaceous woman.  I am now a fan of Nicolita, especially after I viewed their catalog and saw what cute designs they had and many that were fantastic one piece suits.    Dama handbags was also there with an amazing collection of handbags.  The prices were very reasonable and their designs were varied.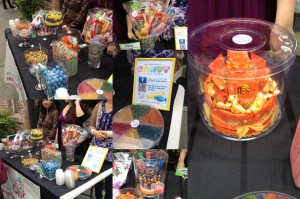 Turning the corner I glimpsed a table with elaborate setup of candy.  A company called The Candy Chef, who makes fun and creative candy arrangements had set up shop.  How fun!  They had samples for the guests to try.  Many sugar coated treats awaited tasting.  My favorite was the spicy chili flavored gummy bears. How original!    They had examples of their creations setup on the table and I was impressed at how they came up with the arrangements.
A D.I.Y. table was setup in the back and I was looking forward to seeing what kind of headband I could make out of the materials provided.  With elastic, felt,pipe cleaner, and feathers I was able to make a not too messed up looking headband.  I was amazed at some of the creative talent that came up with even more elaborate designs.
The fashion show drew the event to a close.  A group of fashion bloggers selected clothing , jewelry, and shoes to walk down the runway with.  It was interesting to see what items they decided to put together.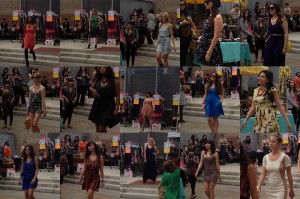 I had such a great time at this event and made many new friends.  A big thank you to herreviews.com for letting me cover this event.
Tweet