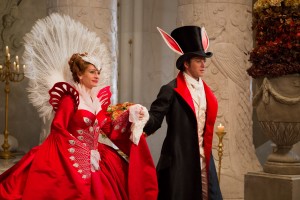 One of the most beloved stories of all time is coming to life in the motion picture event, Mirror Mirror.  A fresh and funny retelling of the Snow White legend, Mirror Mirror features breakout star Lily Collins (The Blind Side) as Snow White, a princess in exile, and Oscar®-winner Julia Roberts as the evil Queen who ruthlessly rules her captured kingdom. Seven courageous rebel dwarfs join forces with Snow White as she fights to reclaim her birthright and win her Prince in this magical adventure comedy filled with jealousy, romance, and betrayal that will capture the hearts and imaginations of audiences the world over.  The film also stars Armie Hammer (The Social Network) as the Prince, and Nathan Lane (The Birdcage) as the hapless and bungling servant to the Queen.
Her Review and BagLady Promotions FAMILIES can see the advanced screening on Wednesday March 14th at 5:30pm in Century City.  RSVP is required and on a first come first serve basis!  To RSVP email corby@differentdrummer.com and wait for your confirmation and details. 
**** Email Corby with subject line: "I would like to RSVP  for Mirror Mirror as a guest of Laura Filipowicz of BLP and Her Review."
Make sure to include your name.
Have Fun and Good Luck!
Tweet