Well a few weeks ago, you may have read an article about my husband.  He made the commitment to help raise money for pediatric cancer research and did it as a part of the Fat Sal's team in Westwood.  Joe only learned about the event (held yearly) one week before, but even with time working against him, he was able to raise over $1,000!  Go Joe!
It was a great expereince for all of us – Oh yeah!  He had to shave his hair off and I have to say – I kinda thought it looked cool.  A huge thank you to those that donated!  A special thanks to Fat Sal's for supporting the cause and bringing the community together.
Oh! And Joe gets a little perk too! Fat Sal's rewarded its particiapnts with subs and a limited edition Tshirt!  Yay!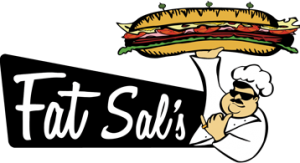 Fat Sal's is a creative culinary culmination and vision of three friends from New York.  The group is made up of food lovers: Sal (Fat Sal), Josh, & Jerry Ferrera of the HBO shows, Entourage! Joe raves about their subs!  Maybe I will be invited to sample their food for a detailed review (wink-wink!)
Tweet