We all dread that common spring break and summer phrase rolling off our children's tongues:
"I'm Borrrrreeeeeeeeeedddddddddd mom!"
That is exactly what the premiere South bay and Westside Kids' activity magazine, What's Up for Kids,  is combating with their Summer Camp Expo. 2 days, 2 locations with over 50 camp destinations to keep your kids happy, active, learning, entertained, engaged and … well … NOT bored.
I thought I had gotten to the party late when I arrived at 9:55 since the Norris Center was already packed with families. Eco-friendly WUFK bags handed out to each family that entered also allowed for collection of the multitude of information and giveaways from the local booths. But you can't take home the loveable, soft bunnies from the Wasewagen Camp table (yes they really were REAL bunnies!)
Whether you:
wonder what credentials you should look for in a camp (visit the American Camp Association )
how your child can multitask summer camp experiences with scout badge earning
which camps will further your child's advanced athletic or performing arts skills;
how you can get your child excited about learning more during the summer months …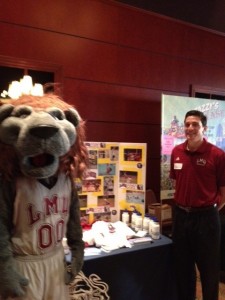 You can get any or all of these answers from the various camp representatives and directors at this expo. A great resource for local families with kids of all ages.
I was thoroughly impressed with the event .. the caliber of camps in attendance, and the organization of it all. And don't worry … if you missed the expo you can get can get the  info on the What's Up for Kids summer expo page where they have links to many of the camps.
Here's to happy summer plans!
Yvonne Elm Hall is a South bay mom of 2 kids, 2 labradors, Summer the goldfish and happily tethered to hubby.  Always trying to use her powers for good she loves helping families get healthy dinners to the table quickly and helping entrepreneurs share their wisdom with world easily.  www.yvonneelmhall.com
Tweet