Pedicure For A Male… Yes or No?
The Pampered Male – Pedicure for a Male? Yes or No?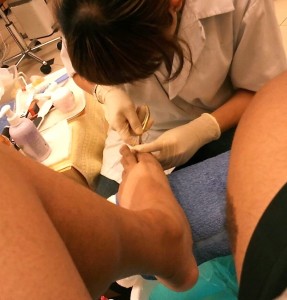 Ladies, have you ever looked at your husband or boyfriends feet and thought "I wish I could talk him into a pedicure, but I know he won't do it"? If so, then read on as I describe to you how I became a fan of getting my feet pampered and provide a few tips that may help you convince him that it is perfectly fine for man to take care of his feet. I've always fashioned myself as a 'man's man'.
You know the type, former athlete and former fraternity guy. I'll be honest, former cocky jerk at times. While having a post-workout conversation with a friend, it was suggested I try getting a pedicure. Now mind you, this friend is a card holding member to the illustrious 'man's man' club too. His job has him walking through some of the most rural southern California terrain while carrying a machine gun. So imagine my surprise as he sat across the table from me and described his love for getting pedicures.
As I sat there looking at him strangely he said those words I didn't want to hear, "Bro, you should try it."The dilemma; do I A. say "no way dude, that's for women" and risk offending him or B. take his word for it as a card holding 'man's man' club member that I won't end up with glitter on my toe nails. I pondered what he said a bit more in the following weeks. I'm not a stranger to certain services from a grooming aspect BUT a pedicure? Really? One Friday afternoon after a long week I had a female friend to walk into a nail salon with me next door to where we had just ate lunch. I was much too nervous to walk in by myself and ask questions about services, prices, etc.
… As I stood there looking around at the near empty salon I saw something that helped ease my anxiety. There was another seemingly 'man's man' club member enjoying a pedicure. With my anxiety eased I quickly found myself settled into a chair to enjoy the mid-level pedicure.  WOW! My friend was right. The trimming of the toenails, cuticle treatment, buffing of the nails and massaging of the calves was fantastic! 
Below are a few key points to make to the man you are trying to convince to make a salon visit, especially if he is an active individual:
• Some of the world's top professional athletes get pedicures and even manicures, i.e. Kobe Bryant of the Los Angeles Lakers.
• Pedicures have health benefits. Routine pedicures help prevent foot infections, nail disorders and pain from corns/bunions/calluses.
• The accompanying massage promotes circulation in the calves and feet.
Ray Elkins bring a new twist to Her Review covering the male perspective on female topics & also covers lifestyle and entertainment events across Southern California.
Tweet