The Evangeline Flex: Girl Shoes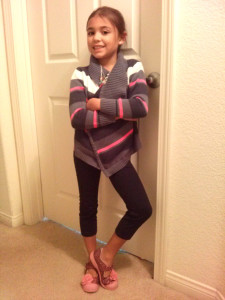 Look no further. We absolutely love the PediPed shoe line, and most importantly, my daughter does too!  But did you know that PediPed shoes are not just for toddles? They have shoes for youth up to size 4-4.5.  Recently our youngest reviewer received a pair of pink sparkly PediPed Evangeline to test out. This little one is a hard one to please when it comes to shoes. I cringe when I purchase shoes for her. Why? Because she always has a problem with the shoes I buy her. Some examples, "…They are too tight", "They are too hard", They make my feet sweat" and my favorite, "They don't fit anymore" even though we had just measured her foot and they really are her size. Fabulous right? Many times it is just money down the drain!
So when we had the opportunity to review these darling shoes in sparkle pink I was excited! Straigh out of the box, she was interessted in trying them out, which to me was a good sign! She has been wearing them quite a bit and when she asks me to suggest a pair of shoes with an outfit, I suggest the PediPed Evangeline and she agrees with me! Seems to me she loves them!
As a mom, the shoes featured are the reasons why this shoe brand will be on my top 5 list when purchasing a pair of shoes for her:
1. Very flexibe sole
2. Darling styles
3. Affordable
4. High quality
5. Comfortable
With its adorable flower, sparkle look and flexibility, this  lightweight Mary Jane is just perfect for the  everyday play date or a fancy tea party.
For more information visit PediPed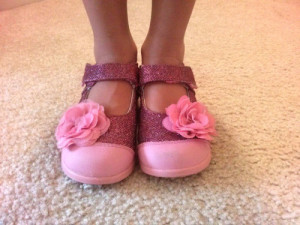 Disclaimer: HerReview was provided with a pair of PediPed Evangeline shoes for the purpose of this review. However, all opinions are our own and we only recommend products that we believe would be good for our readers.
Tweet