QVC Red Carpet Pre Oscar Party – "Buzz On The Red Carpet" Event

This mom never gets a chance to get out past 6pm these days with a family including a 6 year old at home…
But this year, HerReview stopped by the Pre-Oscar QVC Red Carpet party Thursday night at the Four Seasons in Beverly Hills for a night of fun, fashion and mingling alonside dear friend and editor Karen Salkin of ItsNotAboutMe.    I walked alongside top celebrities from Kim Kardashian to Nicole Richie and briefly chatted with top Celebrity Stylist, Anya Sarre  - who was a doll!
It was definitely another night of Hollywood Glam and Glitz!  The lovely Cheryle Brooke (Dancing With The Stars) even stopped for a quick shot of her darling dress and cute smile, of course. And I even had the pleasure of meeting Mikey Glazer of The Party Report who was nothing less than charming and didn't even mind posing for a quick pix for the Her Review readers.
QVC put on a very nice event complete with tuna tartare, yummy treats and lavish decor. The detail was impecable and embiance was 100% red carpet style.  Can't wait to catch up with everyone once again next year!
Who says this fourty-something year old mommy can't stay out past 6pm?
Not in Hollywood baby!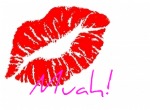 Photo Credit: Laura Filipowicz
Tweet