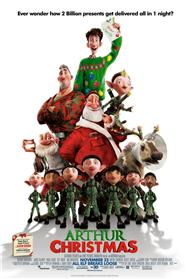 Sony Pictures' Arthur Christmas was "Amazing!" in the words of my 6 year old daughter.  My husband follwed that comment with "It was a great movie. Perfect for the entire family!"
A few weeks ago, we were invited to attend a screening of  Arthur Christmas at the Sony Studios.  The 3D, CG-animated family comedy Arthur Christmas, an Aardman production for Sony Pictures Animation, at last reveals the incredible, never-before seen answer to every child's question: 'So how does Santa deliver all thosepresents in one night?' The answer: Santa's exhilarating, ultra-high-tech operation hidden beneath the North Pole. But at the heart of the film is a story with the ingredients of a Christmas classic – a family in a state of comic dysfunction and an unlikely hero, Arthur, with an urgent mission that must be completed before Christmas morning dawns.
The release date for Arthur Christmas was November 23rd.  With the holiday season in full swing, take your family out for a day at the movies.
Tweet