Step On Me Please! The Flor West Hollywood Store Opening
I've been getting the Flor catalog for years. Flor is a system of modular carpet tiles that you can mix and match to meet your decorating needs. Each tile comes with little sticky circles called Flor dots, so all you basically do is figure out your pattern and peel and stick. Flor carpet squares are easily installed as wall-to-wall carpeting without a pad or as an alternative to area rugs. These carpet tiles are great because if your child drops his ice cream, the cat leaves you a lovely hairball, or your husband knocks over your glass of wine reaching for the remote (all of which have happened in my house), you just pull up the soiled tile and either wash it off or replace it. I also love that the carpet tiles are made with recycled and renewable materials. Flor will even take back old tiles to recycle, so they won't end up in a landfill.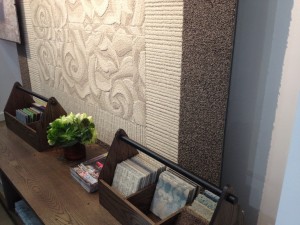 So I've been getting this catalog for years, but never ordered because the carpeting seemed so, well, industrial. When I've used carpeting, it needs to feel soft under my feet, and my experience with Flor tiles has always been in an office setting where folks aren't generally running around without shoes on. I was pleasantly surprised when I arrived at the party for the opening of Flor's West Hollywood showroom. The showroom, while small, is very welcoming and has many examples from whimsical to elegant of how the Flor tiles can be combined. The colors and patterns are just beautiful. I was especially impressed the Union Jack pattern that would look great in a kid's playroom as well as the neutral woven patterns that look just like sisal. One decorator with whom I spoke said she loves Flor's sisal patterns because they look great and, unlike real sisal, they don't fray or feel rough under foot. I spent a lot of time touching carpet samples, which are set out in vintage inspired wood carry-alls and took note of the product's durability and softness.
Being able to go into an actual showroom allows you to play with the product and to work with a design expert to get exactly what's right for your room. Best of all, it's probably one of the few stores where you're encouraged to take off your shoes and step on the merchandise.
The Flor West Hollywood store is located at
9020 Beverly Boulevard
West Hollywood, CA 90048.
http://www.flor.com/WestHollywood-Grand-Opening
By Angela Price– website: www.edencondensed.com
YouTube: http://bit.ly/FRYqce
Facebook: https://www.facebook.com/EdenCondensed
Twitter: https://twitter.com/#!/EdenCondensed
Etsy: http://etsy.com/shop/EdenCondensed
Check out the Eden Condensed blog on Our Ventura Blvd.: http://www.ourventurablvd.com/Blogs/Eden-Condensed/
Tweet