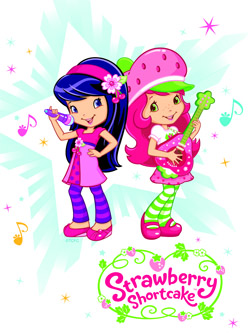 The half-hour animated series "Strawberry Shortcake's Berry Bitty Adventures" returned for another season on The Hub TV network, Saturday, November 5, 9 a.m. ET. The CGI animated series features Strawberry Shortcake and her friends (Blueberry Muffin, Raspberry Torte, Plum Pudding, Orange Blossom and Lemon Meringue) in Berry Bitty City where there is no challenge too big for this high-spirited resourceful bunch.
Season two of "Strawberry Shortcake's Berry Bitty Adventures" introduces a new character to the group, Cherry Jam, a megastar singer from the big city! Strawberry Shortcake and her girlfriends are just the ones Cherry Jam has been looking for! She will discover that Strawberry is the best friend she never imagined she would find. The two singers will learn that they inspire each other creatively and musically. When they are singing together, or just hanging out, they are always in perfect harmony. In addition, Season 2 will focus on a new locale in Berry Bitty City, the Marketplace, and a beautiful new gown for Strawberry Shortcake, a light-up dress! The series is produced for The Hub TV network by American Greetings Properties.
For more information about The Hub and to find the channel in your area, visit www.hubworld.com and check the Channel Locator at the top of that page.
The Hub, a television destination for kids and their families, is a joint venture of Discovery Communications and Hasbro, Inc. You can visit The Hub on Facebook at http://www.facebook.com/#!/hubtvnetwork.
Tweet