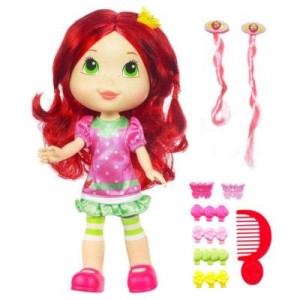 With a quick smell of her pretty little red hair, I was taken back to the sixth grade – woah! That was quite some time ago for me – the early 80′s!  In fact, that moment I went looking for a tiny strawberry shortcake pin I got as a gift just randomly from a fellow classmate named John.  I don't remember much about him, but I still have the pin that says 1980 on the back of it.  I guess it is an antique by now…funny!  Well that is what childhood memories are made of and it is nice to have that nostalgic moment.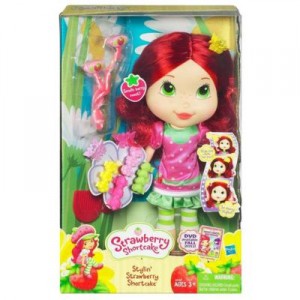 Recently, we were sent a Strawberry Shortcake doll to review here at HerReview.com and we had our youngest little toy expert take a look at the doll to give us her thoughts on it.  Little Miss Madi had a few things to say about what she loved about it and what she would like to see different:
Loves…
Styling her hair with all of the accessories.
Changing her clothes.
The yummy smell.
That the doll is able to sit without tipping over.
The soft hair.Dislikes:
That she is unable to change her shoes.
Had a little bit of a hard time with only one set of clips (all the others were great).Overall the product was rated by Madi as very cool and would recommend this toy.  As a parent, I also took a look at it, and found myself wanting to play with the doll too!  I know the holidays have come and gone, but I would recoommend this doll as a birthday gift for kids ages 4 and up.
Tweet