My son wanted to ride the Metro train for his birthday. So of course we planned a day trip, on a Thursday, from Redondo to Hollywood (so we could meet Daddy after work to celebrate the big 4!) The train trip itself was LONG for a just turned 4 year old … and was still too long for my 6 year old. Probably not a smart idea after a full day of school. But I'm sure they'll remember it … crammed trains with rush hour business people and all! Next time I'll start earlier in the afternoon. Although we thought the train would be the highlight of the night … we were very mistaken!
We found a new gem at Hollywood and Highland that by far stole the night. There were no predisposed plans once we arrived at the center. We happened to wander in a shop with an 8 1/2″ x 11″ piece of white copy paper sign in the window that said something like: "Sweetest spot in Hollywood now open."
I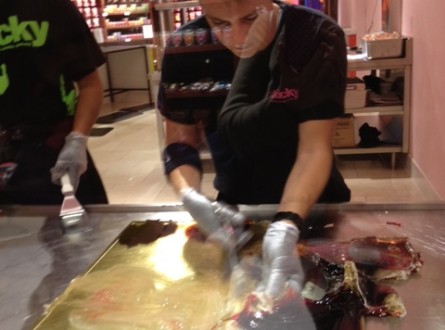 considered it a good spot the moment we walked in and perfect for killing time looking around waiting for Daddy to arrive. Candy and novelty toys were organized in islands right as we walked in. Hollywood themed and sparkly, I Love Lucy, Star Trek, Star Wars, DC super Heroes, Avengers, Disney Princesses, Pixar movies … we were in Heaven. Then an employee came over with a chocolate bar sample tray and offered us pieces. Of course we said YES! and she mentioned they are making bars around the corner in the Chocolate Lab. Well that sounded fun so I talked the kids into walking over and this is what we saw!
Two youngish guy behind glass were adding color to this large thick slab of .. well of GOOOOOOOO … the colors made it bubble. They started talking to us and asking us questions and explaining that they were making hard candy and told the kids each step of the process. We were all totally engrossed in the entire thing! They cut up the slab of goo with actual scissors, mixed it for even color, pulled a section on a metal hook and made it look like rolled it and re rolled it and flattened it and then assembled it and rolled it all together into what looked like a huge tube of crazy color combinations. Then they pulled it, and pulled it and cracked of a strip and then cut those into smaller strips … and what they made was small rolls of hard candy that looked like a dissection of an apple … that actually tasted like an apple!
It was an awesome experience and the best part was … it was FREE!
If you are looking for a fascinating science excursion, a History lesson about how candy used to be made or just a fun excursion for the kids … Sweet LA is the place to go!
 Yvonne Elm Hall is a South bay mom of 2 kids, 2 Labradors, Summer the goldfish and happily tethered to a hubby. Always trying to use her powers for good she loves helping families get healthy dinners to the table quickly and helping entrepreneurs share their wisdom with world easily. www.yvonneelmhall.com
Tweet