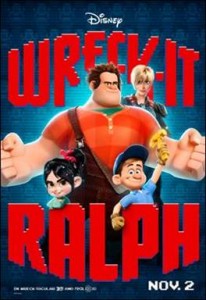 Many of us that went to the arcade in the 80s now have kids. And Disney knew how to capitalize on that … making a great-animated movie for our kids, with lots of important messages, that is so perfectly retro and relevant for us!
Old school game graphics start the movie, setting the stage of poor Ralph and his life in the dumpster. Meanwhile Fix-It Felix and the Nicelanders party it up every night in the penthouse apartment.
Our 1st look back at our fave 80s arcade icons are seen at the Bad-anon meeting for arcade bad guys. With a Pac man ghost running the meeting.
How the characters get around the arcade after hours is pretty creative and impressive that they also managed to work in important many messages throughout the movie:
There's good in everyone; even bad guys
Don't judge a book by its cover
Be the best you you can be
Be nice to everyone because you never really know who they are
There is a time and a place for "wrecking" but you have to know when its appropriate
And of course the usual Disney message, Believe! Everyone deserves to live in the penthouse.
This feel-good movie has a love story, tons of laugh lines throughout and even a twist at the end! Even the typically dark/scary climax of Disney movies is pretty tolerable, even for the littlest ones.
In our 4 family opinions this is a must see Fall movie for kids that  you'll want to see too!
Yvonne Elm Hall is a South bay mom of 2 kids, 2 Labradors, Summer the goldfish and happily tethered to a hubby. Always trying to use her powers for good she loves helping families get healthy dinners to the table quickly and helping entrepreneurs share their wisdom with world easily. www.yvonneelmhall.com
Tweet